Home Page About Us Products Quality News FAQ Contact Us
1)Quality of Our Suction Cup Products
a) All our PVC suction cups meet the following international standards:
| | |
| --- | --- |
| 1. | Phenol content in accordance with German Food Commodities Act, LMBG, Recommendation XL VII. |
| 2. | EN1122: 2001 (Method B.) |
| 3. | Hasbro Specification SRS-046 Rev.E for DEHP content. |
| 4. | European Union's Directive 2002/95/EC (RoHS) |
| 5. | EN71 Part: 1994 & AMENDMENT A1: 2000 |
| 6. | Azo dyes test. |
| 7. | (ST Mark) Japan Toy Safety Standard: Part 3 - 2002. |
| 8. | Tin Content |
| 9. | ASTM F963-96a |
| 10. | ASTM F963-03 |
| 11. | Mattel #0006-5010 Rev.B For total CADMIUM CONTENT. |
| 12. | U.S. FDA. |
b) All our Non-phthalate PVC suction cups meet the standards stated in section a) and following international and toys company standards:

| | |
| --- | --- |
| 1. | Mattel QSOP NO. 0006-3610 Rev.E for total phthalate content |
| 2. | Mattel QSOP #0006-3610 Rev.F and DINA content |
| 3. | European council directive 91/338/EEC for total cadmium content |
| 4. | Mattel QSOP NO. 0006-3610 Rev.G for total phthalate content |
| 5. | Mattel QSOP NO. 0006-3610 Rev.I for total phthalate content |
| 6. | Bandai Environmental Testing Program for Polyvinyl Chloride (PVC) Products. |
c) All our PU, TPR(SBS and SEBS) suction cups meet the standards stated in section a) and b) above.
2)Quality Management System¡¡
CCI adopted and implemented the quality management system (QMS) in compliance with the international standard ISO 9001 : 2000. So as to demonstrate its ability to consistently provide products and services that meets customer and applicable regulatory requirements (e.g. RoHS, EN71, ASTM etc), and to enhance customer satisfaction through the effective application of the system including processes for continual improvement of the system and the assurance of conformity of customer requirements.
With aid of ¡°process approach¡±, the company identified ¡°Management responsibility¡±, ¡°Resource management¡±, ¡°Product realization¡±, ¡°Measurement, analysis and improvement¡± as its 4 major processes of the QMS.
The process-based quality management system in the following figure illustrates the linkages of the 4 major processes and how to transform the customer requirements into product.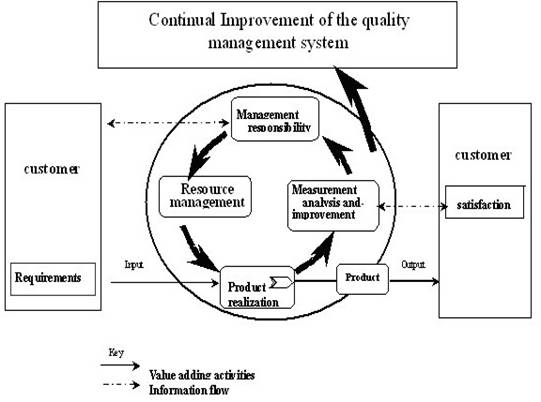 CCI¡¯s QMS was built based on the following 8 quality management principles:
1) Customer focus
CCI depends on their customers and therefore should understand current and future customer needs, should meet customer requirements and strive to exceed customer expectations.
2) Leadership
Leaders establish unity of purpose and direction of CCI. They should create and maintain the internal environment in which people can become fully involved in achieving the CCI¡¯s objectives.
3) Involvement of people
People at all levels are the essence of CCI and their full involvement enables their abilities to be used for the CCI¡¯s benefit.
4) Process approach
A desired result is achieved more efficiently when activities and related resources are managed as a process.
5) System approach to management
Identifying, understanding and managing interrelated processes as a system contributes to the CCI¡¯s effectiveness and efficiency in achieving its objectives.
6) Continual improvement
Continual improvement of CCI¡¯s overall performance should be a permanent objective of the organization.
7) Factual approach to decision making
Effective decisions are based on the analysis of data and information.
8) Mutually beneficial supplier relationships
CCI and its suppliers are interdependent and a mutually beneficial relationship enhances the ability of both to create value.
¡¡
¡¡
¡¡
¡¡
¡¡
¡¡