Home Page About Us Products Quality News FAQ Contact Us
CCI News
2006 First International Forum of Green Production and Standardization 
The First International Forum of Green Production and Standardization organized by China National Institute of Standardization was held at Beijing PRC on 26 Oct. 2006.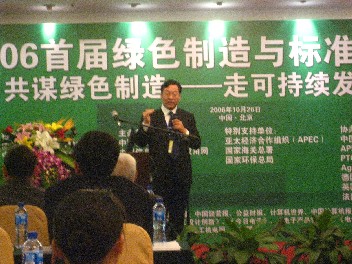 This Forum was supported and sponsored by government authorities(Ministry of Information Industry, Ministry of Commerce, General Administration of Customs, State Environmental Protection Administration etc), international organizations(e.g. APEC, APEC E-commerce association China International E-commerce Centre etc) , medias (e.g. CCTV, BTV, and many famous enterprises (e.g. Sony, Toshiba, Haier, Panasonic, HP, Lenovo, TCL, BSI, SGS, TUV etc).
Forum focuses on discussion of the development trend, policies and international standardization system of green production; promotion of the development of green production with aid of information technologies; the way to eliminate or minimize the content of all hazardous substances in the products.
Mr. Jack Lau of CCI joined the forum and shared the experiences, ideas and suggestion in green production with government officials, professors, experts and delegates of enterprises.
CCI is committed to produce the products in an environmental friendly way and able to demonstrate the capability to meet green legislative requirements, such as European directives.
CCI news reporter: Andy Ho (Oct. 2006)
CCI's Powerful Suction Cup will be marketed soon.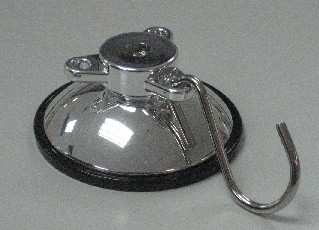 CCI cooperated with a famous French company to design and develop a powerful suction(PS68) which can bear up to 6 kg of load. It was mirror finishing with silver color. It gives you an elegant and powerful look.

This item will be soon marketed in EU by CCI¨s business partner in France.

Some HK& Tai Wan companies are highly interested in CCI¨s newly developed Powerful Suction Cups and will placed order very soon.
Any company or individual of each region are welcome to become CCI¨s business partner.
CCI news reporter: Pamela Tam (Aug. 2006)
PU Suction Cups

Because the performance of PU suction cups is much better than those of PVC, SBS and SEBS, with cooperation with our material suppliers, CCI designed and developed the PU suction series to meet the needs of the markets and customers. We are the first company in the suction cup industry that can provide the PU suction cups. With effort of our competent staff, we will continue to develop the new products and strike to become a market leader of this industry.
CCI news reporter: Andy Ho (Mar. 2006)